Environmental usage conditions:
a. The altitude of the area of use shall not exceed 1000m.
b. The ambient temperature in the area of use: -40~+45 ℃.
c. The place of use should be free from severe mechanical vibration, harmful gases and vapors, and conductive or explosive dust.
4.2 Other usage conditions:
Before the capacitor is put into operation, the remaining voltage between its terminals should not exceed 10% of the rated voltage. When capacitors involve high relative humidity, rapid mold growth, corrosive atmosphere, pollution, and altitude exceeding 1000m
---
1. Product Usage
This product is mainly used for series inverter thyristor intermediate frequency power supply as a DC filter for large capacitors.
2. Model and Meaning

3 Technical performance
3.1 Product standard: JB/T8168 pulse capacitor and DC filter capacitor.
3.2 Withstand pressure level (electrode and polar pair shell) : 1.4UN/DC for 1min.
3.3 Capacitance deviation range: -5% ~ +10%.
3.4 The tangent value of capacitor loss Angle (tgδ) shall not be greater than 0.0015.
3.5 Capacitors can run for a long time at UN and 1000A current.
4 Use Conditions
4.1 The elevation of the installation site shall not exceed 1000m.
4.2 Indoor air temperature range +5 ℃ to +45℃.
4.3 Inlet pressure of cooling water shall not exceed 0.4Mpa, inlet water temperature shall not exceed 30℃, flow rate of cooling water shall not be less than 6L/min, cooling water shall be soft water without impurities, PH value shall be 6 ~ 9.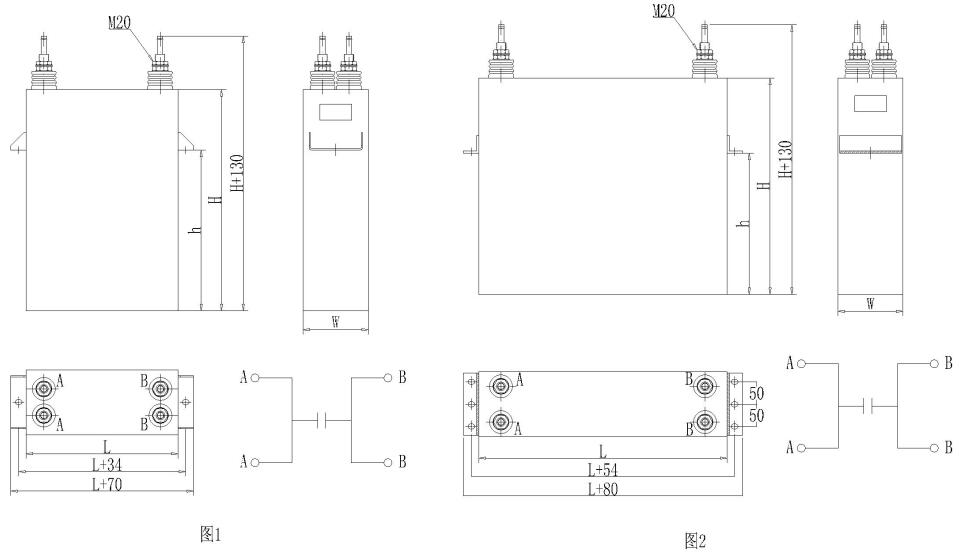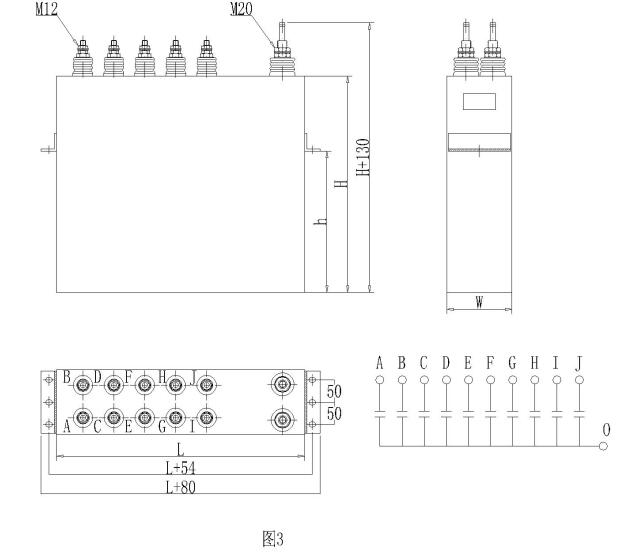 Capacitor types, specifications, ratings and dimensions
No.

Capacitor type

Rated voltage (kV/DC)

Rated capacitance

Overall dimension (mm)

Weight (Kg)

Drawing No

(μF)

grouping

L

W

h

H

1

DCMJ0.86-3800S

0.86

3800

1

343

147

100

780

55

1

2

DCMJ30.96-5000S

0.96

5000

10

560

147

400

590

70

3

3

DCMJ1.2-2600S

1.2

2600

1

343

147

460

670

48

1

4

DCMJ1.2-5000S

1.2

5000

1

330

147

100

810

57

1

5

DCMJ31.2-5000S

1.2

5000

1

560

147

400

590

70

2

6

DCMJ1.8-2600S

1.8

2600

1

343

237

600

780

78

1