High voltage shunt capacitor
Environmental usage conditions:
a. The altitude of the area of use shall not exceed 1000m.
b. The ambient temperature in the area of use: -40~+45 ℃.
c. The place of use should be free from severe mechanical vibration, harmful gases and vapors, and conductive or explosive dust.
4.2 Other usage conditions:
Before the capacitor is put into operation, the remaining voltage between its terminals should not exceed 10% of the rated voltage. When capacitors involve high relative humidity, rapid mold growth, corrosive atmosphere, pollution, and altitude exceeding 1000m
---
High voltage shunt capacitor
1. Product use
Capacitors in this manual are shunt capacitor units (hereinafter referred to as capacitors) applicable to AC power systems with nominal voltage above 1kV and frequency of 50 or 60Hz, which are used to improve power factor and grid quality. The product adopts GB/T 11024.1 and DL/T 840 standard.
2. Product model and meaning

For example:
BAM12-500-1 w
Description: Single phase outdoor shunt capacitor made of benzyl-toluene impregnated polypropylene film medium, rated voltage 12kV, rated capacity 500kvar3. Product structure
The capacitor is mainly composed of three parts: case, core and impregnating agent. The shell is made of high quality sheet steel bent and sealed by welding. The cover of the case is welded with the lead line sleeve, and the two sides of the case are welded with the hoist for handling and installation. The core consists of a number of components and insulating parts connected in series and parallel. The components are made of polypropylene film as solid medium, aluminum foil as plate, and the case is filled with excellent impregnating agent.
4. Conditions of use
4.1 Environment and Operating Conditions:
a. The altitude of the area to be used is not more than 1000m.
b. Ambient temperature: -40 ℃ ~ +45℃.
c. The site shall be free from violent mechanical vibration, harmful gas and steam, and conductive or explosive dust.
4.2 Other Conditions of Use:
Before the capacitor is put into operation, the remaining voltage between terminals shall not exceed 10% of the rated voltage.
4.3 When the capacitor involves high relative humidity, rapid mold growth, corrosive atmosphere, pollution, altitude over 1000m
In case of any special use conditions such as earthquake area, the Buyer shall notify the Company and determine the type of product and special preventive measures to be taken through negotiation.
5. Rating and main technical performance
5.1 Rated voltage:
1.05; 3.15; 6.6/√3; 6.3; 10.5/√3; 10.5; 11/√3; 11; 11/2; 12/2; 12/√3; 12; 24/√3; 24kV.
5.2 Rated Capacity:
100; 150; 200; 300; 334; 400; 417; 500; 667kvar.
5.3 Product Technical specifications (see Appendix A).
5.4 Product and Installation dimensions (see Appendix B).
5.5 Capacitance deviation:
The deviation between the measured capacitance and the rated value of the capacitor should not exceed -5 ~ +5% of the rated value; For three-phase capacitors, the ratio of the maximum to the minimum capacitance measured between any two terminals should not exceed 1.02.
5.6 At rated voltage and temperature 20℃, capacitor loss Angle tangent (tanδ) value, full-film dielectric capacitor shall not exceed 0.0005.
5.7 Capacitor terminal can withstand 2.15 times the rated voltage of power frequency AC experimental voltage test, lasted for 10s.
5.8 For all capacitors whose terminals are insulated from the housing, the short-time power frequency withstand voltage test and lightning impulse voltage test of the insulation level corresponding to the rated voltage of the capacitor in Table 1 can be carried out between the terminals and the housing for 10s. A capacitor with a terminal fixed to the housing is not tested.
Table 1 Insulation level kV
| | | | |
| --- | --- | --- | --- |
| Rated voltage of capacitor kV | Insulation grade kV | The average root value of short-time power frequency withstand voltage (wet test/dry test) lasted for 10s | Lightning impulse voltage 1.2-5/50μs peak positive and negative polarity 15 times |
| 3.15 | 3 | 18/25 | 40 |
| 6.6/√3;6.3 | 6 | 23/30 | 60 |
| 10.5/√3;10.5;11/√3;11;11/2;12/2;12/√3;12 | 10 | 30/42 | 75 |
| 24;24/√3 | 20 | 50/65 | 125 |
5.9 Overloading capacity
a. Overvoltage: Capacitors should be able to operate at the voltage levels given in Table 2. However, the total number of overvoltages above 1.15UN given in Table 2 should not exceed 500 times during the lifetime of the capacitor.
Table 2 Allowed voltage levels in operation
Type

Voltage factor x UN (square mean root)

Maximum duration

Description

Power frequency

1.00

continuity

The highest average value of a capacitor during any period of operation

Power frequency

1.10

12 hours every 24 hours

System voltage adjustment and fluctuation

Power frequency

1.15

30 minutes every 24 hours

System voltage adjustment and fluctuation

Power frequency

1.20

5min

Voltage increases under light load

Power frequency

1.30

1min

Power frequency plus harmonics

Keep the current within the value given in clause 5.9b
b. Overcurrent: The capacitor shall be able to operate under continuous overcurrent not exceeding 1.3 times the rated current of the capacitor caused by fundamental overvoltage or harmonics or both. For capacitors with a maximum actual capacitance of 1.05 times the rated capacitance, the continuous overcurrent is allowed to reach 1.37 times the rated current.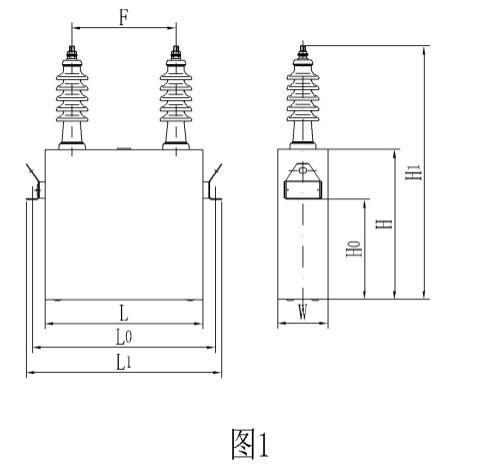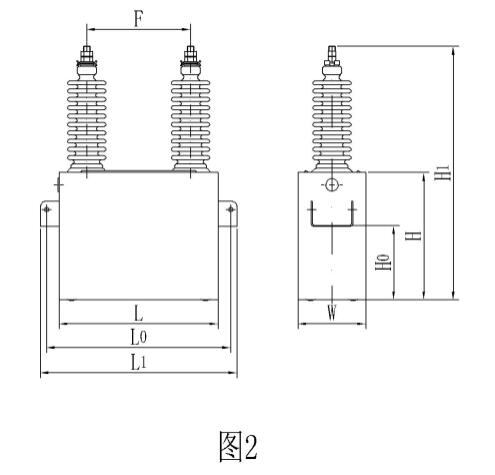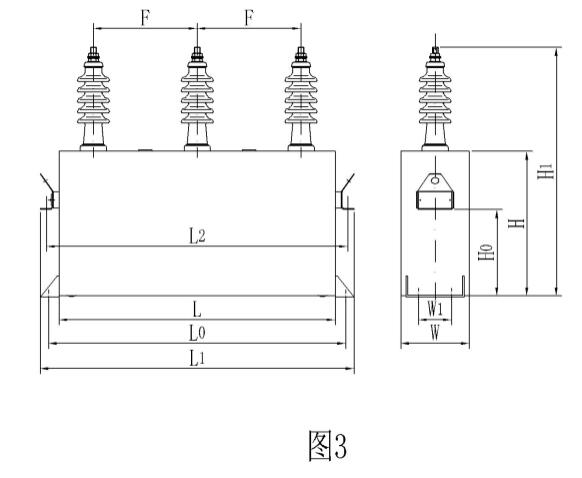 Appendix A: Product technical parameters
No.

Model

Rated voltage (kV)

Rated capacity (kvar)

Rated capacitance (μF)

Overall dimensions(mm)

Weight

(kg)

Drawing No

L0

L

L1

L2

H0

H

H1

F

W

W1

1

BFM6.6/√3-50-1W

6.6/√3

50

11.0

370

310

400

150

280

490

200

110

18

1

2

BFM6.6/√3-100-1W

6.6/√3

100

21.9

440

380

470

230

360

570

250

120

28

1

3

BFM6.6/√3-200-1W

6.6/√3

200

43.8

560

500

590

230

360

570

320

165

45

1

4

BAM6.6/√3-200-1W

6.6/√3

200

43.8

431

383

473

260

390

620

250

163

39

2

5

BAM6.6/√3-334-1W

6.6/√3

334

73.2

431

383

473

440

570

800

250

163

56

2

6

BAM6.6/√3-400-1W

6.6/√3

400

87.7

431

383

473

500

630

860

250

179

64

2

7

BAM6.6/√3-417-1W

6.6/√3

417

91.4

431

383

473

530

660

890

250

179

67

2

8

BFM11/√3-50-1W

11/√3

50

3.95

370

310

400

150

280

530

200

110

18

1

9

BFM11/√3-100-1W

11/√3

100

7.89

440

380

470

230

360

610

250

120

28

1

10

BFM11/√3-200-1W

11/√3

200

15.8

560

500

590

230

360

610

320

165

45

1

11

BAM11/√3-200-1W

11/√3

200

15.8

431

383

473

260

390

700

250

163

39

2

12

BAM11/√3-334-1W

11/√3

334

26.4

431

383

473

440

570

880

250

163

56

2

13

BAM11/√3-400-1W

11/√3

400

31.6

431

383

473

500

630

940

250

179

64

2

14

BAM11/√3-417-1W

11/√3

417

32.9

431

383

473

530

660

970

250

179

67

2

15

BAM11/√3-500-1W

11/√3

500

39.5

431

383

473

630

760

1070

250

179

77

2

16

BAM11/2√3-334-1W

11/2√3

334

105.4

431

383

473

440

570

880

250

163

59

2

17

BAM11/2√3-400-1W

11/2√3

400

126.3

431

383

473

500

630

940

250

179

67

2

18

BAM11/2√3-417-1W

11/2√3

417

131.6

431

383

473

530

660

1070

250

179

70

2

19

BAM11/2-334-1W

11/2

334

35.1

431

383

473

440

570

880

250

163

56

2

20

BAM11/2-400-1W

11/2

400

42.1

431

383

473

500

630

940

250

179

64

2

21

BAM11/2-417-1W

11/2

417

43.9

431

383

473

530

660

970

250

179

67

2

22

BAM11/2-500-1W

11/2

500

52.6

431

383

473

630

760

1070

250

179

77

2

23

BFM11-50-1W

11

50

1.32

370

310

400

150

280

530

200

110

18

1

24

BFM11-100-1W

11

100

2.63

440

380

470

230

360

610

250

120

28

1

25

BFM11-200-1W

11

200

5.26

560

500

590

230

360

610

320

165

45

1

26

BAM11-200-1W

11

200

5.26

431

383

473

260

390

700

250

163

39

2

27

BAM11-334-1W

11

334

8.79

431

383

473

440

570

880

250

163

56

2

28

BAM11-400-1W

11

400

10.5

431

383

473

500

630

940

250

179

64

2

29

BAM11-417-1W

11

417

11.0

431

383

473

530

660

970

250

179

67

2

30

BAM11-500-1W

11

500

13.2

431

383

473

630

760

1070

250

179

77

2

31

BFM12/√3-50-1W

12/√3

50

3.32

370

310

400

150

280

530

200

110

18

1

32

BFM12/√3-100-1W

12/√3

100

6.63

440

380

470

230

360

610

250

120

28

1

33

BFM12/√3-200-1W

12/√3

200

13.3

560

500

590

230

360

610

320

165

45

1

34

BAM12/√3-200-1W

12/√3

200

13.3

431

383

473

260

390

700

250

163

39

2

35

BAM12/√3-334-1W

12/√3

334

22.2

431

383

473

440

570

880

250

163

56

2

36

BAM12/√3-400-1W

12/√3

400

26.5

431

383

473

500

630

940

250

179

64

2

37

BAM12/√3-417-1W

12/√3

417

27.7

431

383

473

530

660

970

250

179

67

2

38

BAM12/√3-500-1W

12/√3

500

33.2

431

383

473

630

760

1070

250

179

77

2

39

BAM12/2√3-334-1W

12/2√3

334

88.6

431

383

473

440

570

880

250

163

59

2

40

BAM12/2√3-400-1W

12/2√3

400

106.1

431

383

473

500

630

940

250

179

67

2

41

BAM12/2√3-417-1W

12/2√3

417

110.6

431

383

473

530

660

1070

250

179

70

2

42

BAM12/2-334-1W

12/2

334

29.5

431

383

473

440

570

880

250

163

56

2

43

BAM12/2-400-1W

12/2

400

35.4

431

383

473

500

630

940

250

179

64

2

44

BAM12/2-417-1W

12/2

417

36.9

431

383

473

530

660

970

250

179

67

2

45

BAM12/2-500-1W

12/2

500

44.2

431

383

473

630

760

1070

250

179

77

2

46

BFM12-50-1W

12

50

1.11

370

310

400

150

280

530

200

110

18

1

47

BFM12-100-1W

12

100

2.21

440

380

470

230

360

610

250

120

28

1

48

BFM12-200-1W

12

200

4.42

560

500

590

230

360

610

320

165

45

1

49

BAM12-200-1W

12

200

4.42

431

383

473

260

390

700

250

163

39

2

50

BAM12-334-1W

12

334

7.38

431

383

473

440

570

880

250

163

56

2

51

BAM12-400-1W

12

400

8.84

431

383

473

500

630

940

250

179

64

2

52

BAM12-417-1W

12

417

9.22

431

383

473

530

660

970

250

179

67

2

53

BAM12-500-1W

12

500

11.1

431

383

473

630

760

1070

250

179

77

2

54

BAM22/2√3-334-1W

22/2√3

334

26.4

431

383

473

460

590

960

250

163

58

2

55

BAM22/2√3-400-1W

22/2√3

400

31.6

431

383

473

520

650

1020

250

179

66

2

56

BAM22/2√3-417-1W

22/2√3

417

32.9

431

383

473

550

680

1050

250

179

69

2

57

BAM22/2√3-500-1W

22/2√3

500

39.5

431

383

473

650

780

1150

250

179

79

2

58

BAM24/2√3-334-1W

24/2√3

334

22.2

431

383

473

460

590

960

250

163

58

2

59

BAM24/2√3-400-1W

24/2√3

400

26.5

431

383

473

520

650

1020

250

179

66

2

60

BAM24/2√3-417-1W

24/2√3

417

27.7

431

383

473

550

680

1050

250

179

69

2

61

BAM24/2√3-500-1W

24/2√3

500

33.2

431

383

473

650

780

1150

250

179

79

2

62

BFM6.6-100-3W

6.6

100

7.31

715

665

755

725

230

370

620

250

120

47

3

63

BFM6.6-200-3W

6.6

200

14.6

715

665

755

725

230

370

620

250

165

80

56

3

64

BFM6.6-300-3W

6.6

300

21.9

715

665

755

725

230

370

620

250

200

80

72

3

65

BFM11-100-3W

11

100

2.63

715

665

755

725

230

370

620

250

120

47

3

66

BFM11-200-3W

11

200

5.29

715

665

755

725

230

370

620

250

165

80

56

3

67

BFM11-300-3W

11

300

7.89

715

665

755

725

230

370

620

250

200

80

72

3

68

BFM12-100-3W

12

100

2.21

715

665

755

725

230

370

620

250

120

47

3

69

BFM12-200-3W

12

200

4.42

715

665

755

725

230

370

620

250

165

80

56

3

70

BFM12-300-3W

12

300

6.63

715

665

755

725

230

370

620

250

200

80

72

3