Electric heating capacitor
Environmental usage conditions:
a. The altitude of the area of use shall not exceed 1000m.
b. The ambient temperature in the area of use: -40~+45 ℃.
c. The place of use should be free from severe mechanical vibration, harmful gases and vapors, and conductive or explosive dust.
4.2 Other usage conditions:
Before the capacitor is put into operation, the remaining voltage between its terminals should not exceed 10% of the rated voltage. When capacitors involve high relative humidity, rapid mold growth, corrosive atmosphere, pollution, and altitude exceeding 1000m
---
Electric heating capacitor
1. Product use
The capacitors described in this manual are intended for indoor capacitor units and banks specially designed to improve the power factor or loop characteristics of induction heating, melting, stirring or casting installations and similar applications in controlled or adjustable AC voltage systems with nominal voltages not greater than 4kV and frequencies of 50kHz and below.
2. Product model and meaning

3. Product structure
3.1 The capacitor is mainly composed of shell, wiring guide bar and heart.
3.2 The shell is made of aluminum plate bent and welded, and it is equipped with capacitor heart, which is full of insulating oil with excellent electrical performance. The two ends of the shell are welded with brackets for installation and hoisting, and the shell cover is equipped with wiring guide rods sealed with silicone rubber and supported by porcelain bushing.
3.3 Capacitor core consists of several components, which are stacked into a whole through insulation gasket, splints, etc., in accordance with the design regulations. The cooling water pipe is directly welded into a whole with the component plate.
4. Conditions of use
4.1 The elevation of the installation site shall not exceed 1000m.
4.2 Indoor air temperature ranges from -40 ℃ to +45℃.
4.3 The remaining voltage at re-energizing shall not exceed 10% of the rated voltage.
4.4 Inlet pressure of cooling water shall not exceed 0.4Mpa, inlet water temperature shall not exceed 30℃, flow rate of cooling water shall not be less than 6L/min, cooling water shall be soft water without impurities, PH value shall be 6 ~ 9.
5. Main technical performance and data
5.1 Product Standards
Part I General for power capacitors for induction heating installations (equivalent to Part I general for power capacitors for induction heating installations IEC60110.1).
5.2 Capacitor terminals (electrode) can withstand 2.0UN power frequency test voltage for 10s.
5.3 For capacitors whose terminals are all insulated from the housing, the power frequency test voltage between the terminals and the housing shall be 2.15UN and at least 2000V for 10s.
5.4 Capacitance deviation range: no more than -5% ~ +10% of the rated value.
5.5 At rated power frequency voltage, the tangent value of capacitor loss Angle (tgδ) should not be greater than 0.0008
5.6 Overload: The capacitor can run continuously at rated voltage and 1.15 times rated current, and can run for no more than 12 hours every 24 hours at 1.05 times rated voltage.
5.7 Main technical data and dimensions of capacitors (see attached table and attached figures 1-9).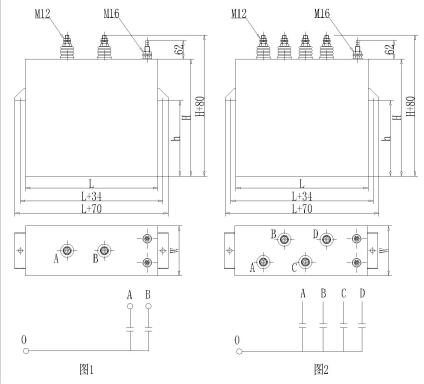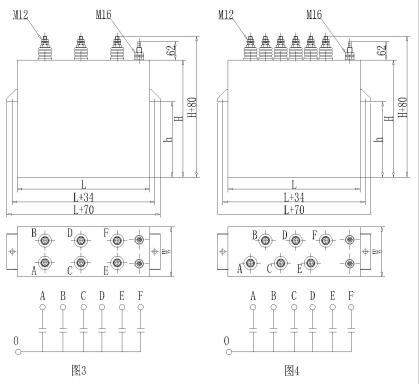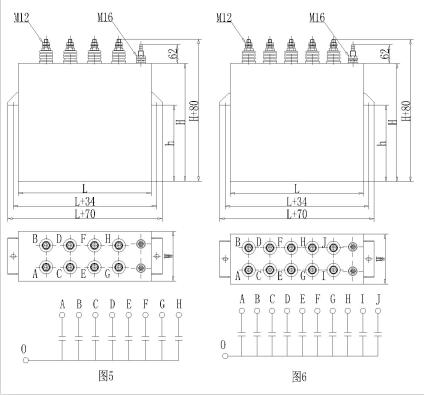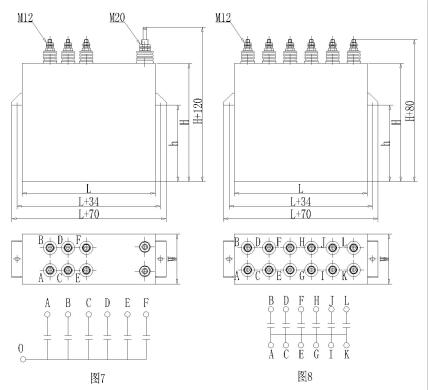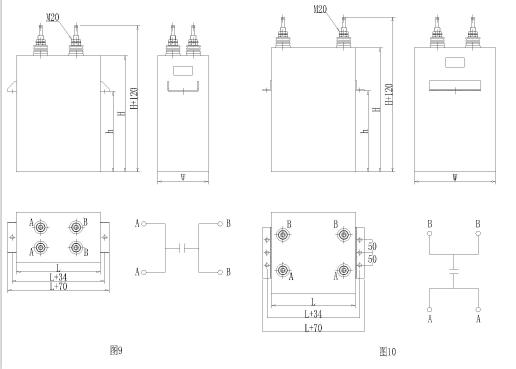 The models, specifications, ratings and dimensions of capacitors are shown in the table
No.

Capacitor model

RATING

Overall dimensions

Weight(kg)

Drawing No

UN

(kV)

QN

(kvar)

IN

(A)

CN

fN

(kHz)

L

W

h

H

(uF)

grouping

1

RFM0.375-500-1S

0.375

500

1333

565.9

6

1.0

400

165

230

350

36

4

2

RFM0.375-500-2.5S

0.375

500

1333

226.4

6

2.5

337

127

230

350

23

3

3

RFM0.75-360-1S

0.75

360

480

101.9

2

1.0

337

127

180

270

18

1

4

RFM0.75-500-2.5S

0.75

500

666.7

56.59

4

2.5

337

127

180

270

18

2

5

RFM0.75-560-4S

0.75

560

746.7

39.61

4

4.0

337

127

180

270

18

2

6

RFM0.75-640-8S

0.75

640

853.3

22.64

4

8.0

337

127

180

270

18

2

7

RFM0.75-1000-1S

0.75

1000

1333

282.9

6

1.0

350

165

230

350

28

3

8

RFM20.75-1000-1S

0.75

1000

1333

282.9

6

1.0

350

165

200

300

25

3

9

RFM0.75-2000-1S

0.75

2000

2667

565.9

10

1.0

440

207

300

390

48

6

10

RFM0.9-2000-2S

0.9

2000

2222

196.5

6

2.0

350

165

175

350

30

7

11

RFM0.9-2000-6S

0.9

2000

2222

65.50

6

6.0

350

165

175

210

18

7

12

RFM0.9-2000-10S

0.9

2000

2222

39.30

6

10.0

350

165

175

350

30

7

13

RFM1.0-1000-0.5S

1.0

1000

1000

318.3

6

0.5

400

165

230

350

36

4

14

RFM1.0-1000-1S

1.0

1000

1000

159.2

6

1.0

350

165

200

300

25

3

15

RFM1.0-2000-0.5S

1.0

2000

2000

636.7

10

0.5

440

207

300

390

47

6

16

RFM1.2-1000-0.5S

1.2

1000

833.3

221.0

6

0.5

400

165

230

350

36

4

17

RFM1.2-1000-1S

1.2

1000

833.3

110.5

6

1.0

350

165

200

300

25

3

18

RFM1.2-1200-0.7S

1.2

1200

1000

189.5

6

0.7

350

165

230

350

28

3

19

RFM1.2-2000-0.5S

1.2

2000

1667

442.1

8

0.5

440

207

300

390

47

5

20

RFM1.2-2000-1S

1.2

2000

1667

221.0

8

1.0

400

165

230

350

36

5

21

RFM1.4-1000-0.5S

1.4

1000

714.3

162.4

6

0.5

400

165

230

350

36

4

22

RFM1.4-2000-0.5S

1.4

2000

1429

324.8

8

0.5

440

207

300

390

47

5

23

RFM1.5-2000-1S

1.5

2000

1333

141.5

6

1.0

355

165

325

500

43

7

24

RFM1.5-3000-0.5S

1.5

3000

2000

424.4

1

0.5

355

200

490

745

65

9

25

RFM1.6-2000-0.5S

1.6

2000

1250

248.7

6

0.5

390

207

300

430

46

3

26

RAM1.6-3778-0.35S

1.6

3778

2361

671.1

1

0.35

330

320

475

800

110

9

27

RAM1.7-2260-0.5AF

1.7

2000

1329

248.9

6

0.5

390

207

300

430

46

8

28

RAM1.7-3000-0.3AF

1.7

3000

1765

550.7

6

0.3

390

207

540

680

72

8

29

RFM1.8-3000-1S

1.8

3000

1667

147.4

8

1.0

390

165

300

430

36

5

30

RAM1.8-3787-0.3S

1.8

3787

2104

620.1

1

0.3

330

320

475

800

110

9

31

RFM2.0-1500-0.5S

2.0

1500

750

119.4

6

0.5

330

200

680

300

51

7

32

RFM2.0-2000-0.5S

2.0

2000

1000

159.2

1

0.5

330

200

400

520

45

9

33

RFM2.0-2000-1S

2.0

2000

1000

79.6

6

1.0

400

165

230

350

36

4

34

RFM32.5-2000-0.3S

2.5

2000

800

169.8

1

0.3

330

200

600

760

64

9

35

RFM2.5-2000-0.3S

2.5

2000

800

169.8

6

0.3

330

200

600

920

77

3

36

RFM2.5-2000-0.5S

2.5

2000

800

101.9

1

0.5

330

200

440

570

48

9

37

RAM2.5-3000-0.3AF

2.5

3000

1200

254.6

6

0.3

390

207

440

680

70

8

38

RFM2.5-4000-0.4S

2.5

4000

1600

254.6

1

0.4

330

320

475

800

110

10

39

RFM32.9-2000-0.3S

2.9

2000

689.6

126.2

1

0.3

330

200

600

760

63

9

40

RFM2.9-3000-0.3S

2.9

3000

1034

189.2

1

0.3

330

200

600

920

80

9

41

RFM3.0-3000-0.5S

3.0

3000

1000

106.1

6

0.5

330

200

100

780

64

7

42

RAM3.0-5400-0.3S

3.0

5400

1800

318.3

1

0.3

560

207

570

820

116

11

43

RFM3.0-6000-0.5S

3.0

6000

2000

212.2

1

0.5

330

290

100

78

91

10

44

RFM33.2-2000-0.3S

3.2

2000

625

103.6

1

0.3

330

200

600

760

64

9

45

RFM3.2-3000-0.3S

3.2

3000

937.5

155.4

1

0.3

330

200

600

920

80

9

46

RFM3.6-6000-0.5S

3.6

6000

1667

254.6

1

0.5

330

320

475

800

110

10

47

RFM3.8-2000-0.2S

3.8

2000

526.3

110.2

1

0.2

330

320

600

800

109

10

48

RFM3.8-3000-0.3S

3.8

3000

789.5

110.2

1

0.3

330

200

600

920

80

9

49

RFM4.0-3000-0.4S

4.0

3000

750

74.6

1

0.4

330

320

335

660

87

10

50

RFM4.0-3000-0.5S

4.0

3000

750

59.7

1

0.5

330

320

235

560

75

10

51

RFM4.0-7500-0.4S

4.0

7500

1875

186.5

2

0.4

390

330

515

840

138

12